What does Songtrust do?
Songtrust is a global publishing administrator. This means we register songs on behalf of our songwriters/publishers with 40+ Performance Rights Organizations (PRO's), mechanical collection societies, and digital services worldwide in order to collect their publishing royalties generated around the world. We have a YouTube Monitor that scans YouTube for videos that may be using your music, whether the video uses a recording of the song or it's a live or cover video. We also allow writers to upload their setlists to be able to collect from international performances as well.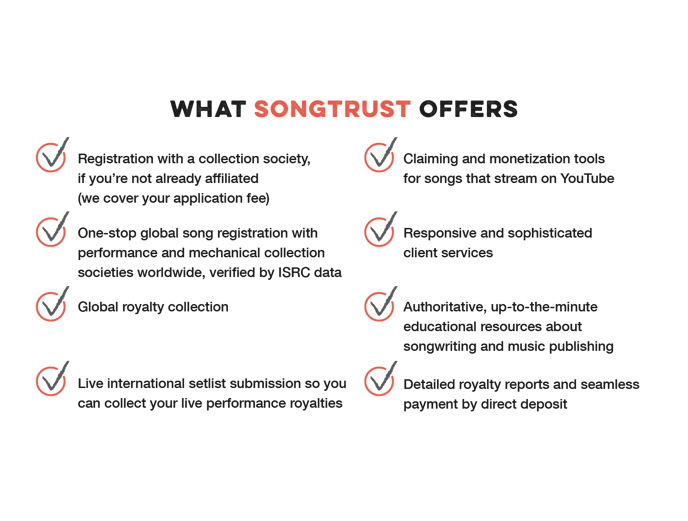 There is a one-time $100 fee per writer, and we keep a 15% commission on all royalties collected. We do not take any sync rights, so you are free to procure any sync opportunities as you see fit and keep 100% of any upfront fees you negotiate for those uses. We can negotiate and paper incoming sync deals on your behalf for our 15% commission, but that is not necessary if you're comfortable doing it yourself.
Our agreement is on a song-by-song basis, so you can register as many or as few songs with us as you'd like, and the term is 1 year. After that, you may cancel at any time and all rights revert back to you.
Interested in learning more? Check out our Blog post on the top ten reasons you need Songtrust.
Thanks for reading. Please rate the article below.
Want to keep up with Songtrust for frequent music and publishing updates?
Follow us @songtrust
Subscribe to our Newsletter
Visit the Songtrust Blog