We help you manage everything from YouTube to PROs.
Songtrust is a global publishing administrator. This means we register songs on behalf of our members with more than 60 pay sources around the world - including Performance Rights Organizations (PROs), mechanical collection societies, and digital service providers.
When you opt into YouTube monetization through Songtrust, we deliver all your songs, along with ISRC information, to YouTube's Content ID System automatically. You can be confident that videos that qualify to be monetized are being claimed on your behalf and can use the Songtrust YouTube Claims page to discover and track all successful claims.
We charge a one-time $100 fee per songwriter, and keep a 15% commission on all royalties collected. We do not take any sync rights, so you are free to procure sync opportunities as you see fit and keep 100% of any upfront fees you negotiate for those uses.
Our agreement is on a song-by-song basis, so you can register as many or as few songs with us as you'd like, and the term is one year. After that, you may cancel at any time and all rights revert back to you.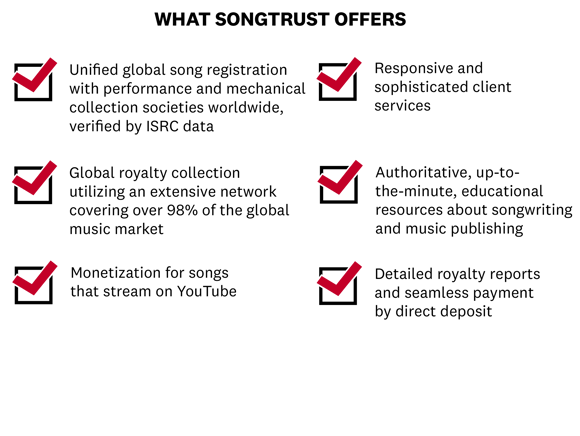 Interested in learning more? Check out our post on the Top 10 Reasons You Need Songtrust.
Want to keep up with Songtrust for frequent music and publishing updates?
Follow us @songtrust
Subscribe to our Newsletter
Visit the Songtrust Blog