Yes - our YouTube monitor in your Songtrust account makes it easy.
Yes! Songtrust offers YouTube monetization as part of our worldwide publishing administration services.

Upon registration, you are opted-in to using the YouTube Monitor in your Songtrust account. Songtrust monetizes compositions ONLY. If you own your sound recordings (masters), you'll need a distributor/label/a third party to help monetize those on your behalf.
We will only deliver works to YouTube for which we have an ISRC, so make sure to add recordings to all of your songs that you want to be monetized on YouTube. Your YouTube Monitor will have a queue of Potential Claims, videos our system has scraped from YouTube that it believes are using your compositions. This user-generated content is identified by a keyword search tool that you can update with different keywords at any time. These keywords help find your catalog in videos already uploaded on to YouTube. You then have the ability to 'assert' claims on videos that are using your composition. These claims are reviewed and confirmed by the Songtrust team once they have met the monetization eligibility requirements.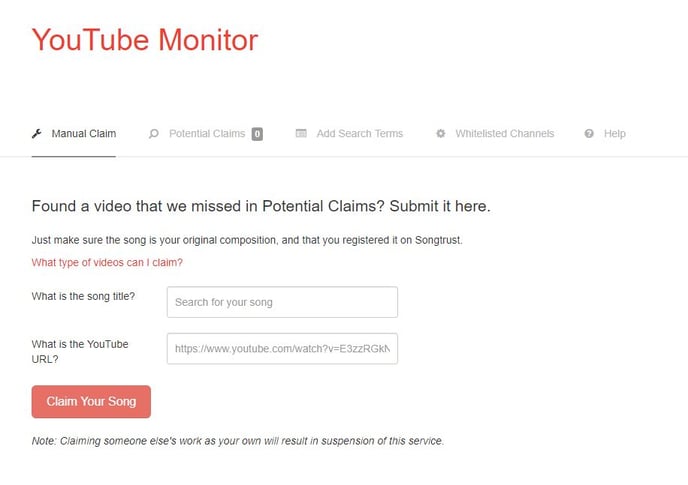 Keep in mind that if the video is on your own channel, you may be able to monetize it yourself. You can "whitelist" your channel by adding it to the Channel Settings section of your YouTube Monitor. We can still claim any videos on other users' channels, provided that they do not have a proper agreement with you in place.
If you have specific preferences on which videos you do and do not want to claim, please submit your videos in the "Manual Claims" section of the YouTube Monitor in your account.
Please note that videos that do not meet YouTube's new eligibility requirements (as of February 20, 2018) cannot be monetized. In order for YouTube to place ads on and monetize a video, the video must be on a channel that has at least 1,000 subscribers and 4,000 hours of watch time over the past 12 months.
Thanks for reading. Please rate the article below.
Want to keep up with Songtrust for frequent music and publishing updates?
Follow us @songtrust
Subscribe to our Newsletter
Visit the Songtrust Blog