Song Registration Process
What if I Wrote the Song with Other People who do not have Songtrust?
Adding an outside writer
Songtrust only represents you and we will help you get your share of royalties owed for any works you own a share of. Co-writers will need to create their own Songtrust account to collect royalties or find another way to collect their share.
However, you must still register them as co-writers by adding them as outside writers within your account. This can be done from the songwriter's page on your account, as shown below.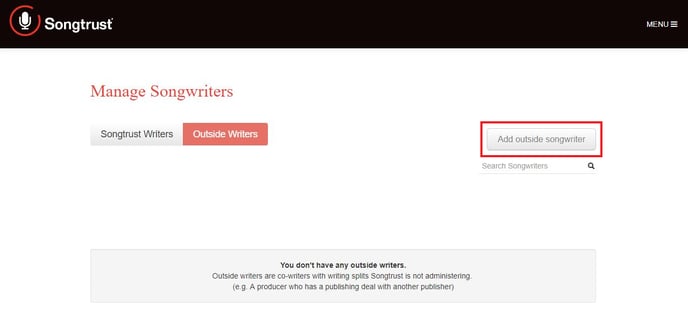 If you are unsure of all of your co-writers' information, you can read this article to find out what to do.
Thanks for reading. Please rate the article below.
Want to keep up with Songtrust for frequent music and publishing updates?
Follow us @songtrust
Subscribe to our Newsletter
Visit the Songtrust Blog