What Is the Pay Rate for Spotify Streams?
How much will I be earning from Spotify?
Every time someone listens to a song Spotify, it generates royalties. As of January 2019, Spotify reports that it pays out between $0.00331 and $0.00437 per stream to rights holders.
However, the rates actually paid to publishers and writers depend on multiple factors - such as whether the royalty is divided among multiple writers and/or publishers, or what country the stream occurred in - and fluctuate over time.
Traditionally, one type of use would only generate one type of composition royalty (for example, a radio play would generate only a performance royalty), but streams generate both a mechanical royalty and a performance royalty.
In 2019, it was reported that it takes about 500,000 ad-supported streams to generate $100 in mechanical royalties and 180,000 premium tier streams to generate monthly minimum wage in the US.
Spotify pays out 70% of its revenue to the master and publishing owners. So, as their user base grows, their rates may grow.
You can see how streaming rates vary by company below: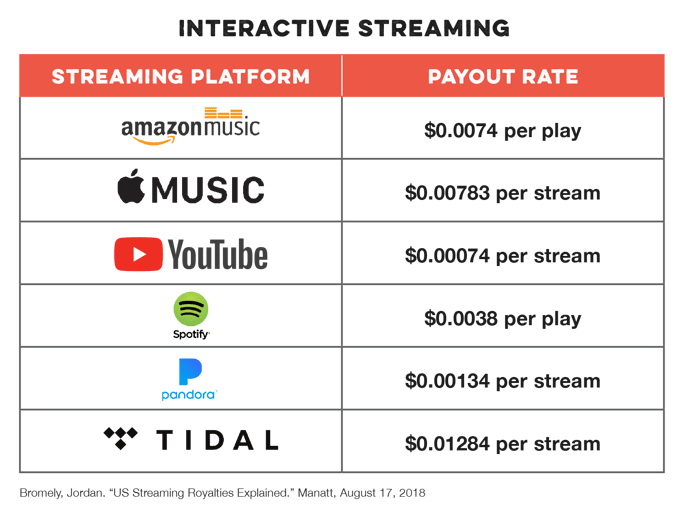 Thanks for reading. Please rate the article below.
Want to keep up with Songtrust for frequent music and publishing updates?
Follow us @songtrust
Subscribe to our Newsletter
Visit the Songtrust Blog