Miscellaneous Music Questions
What is The International Standard Music Number (ISMN)?
The International Standard Music Number (ISMN) is a unique number for the identification of all notated music publications from all over the world, whether available for sale, or hire, and whether or not it's a part, a score, or an element in a multi-media kit.
The ISMN is designed to rationalize the processing and handling of notated music and the respective bibliographical data for publishing houses, the music trade and libraries. You can think of it as the equivalent of an ISBN for books.
As of 1 January 2008 the ISMN consists of 13 digits starting with 979-0 .
Any existing ISMN's from before 2008 have 10-digit ISMNs prefixed by 979-

Here is an example of a 13 digit ISMN.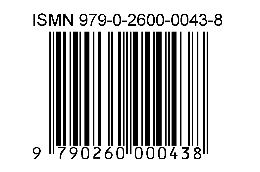 ISMN's allow the sales of you sheet music to be tracked. You are owed royalties when your sheet music is purchased. You can learn more about that here.