Mechanical Royalties Partners
What Is the Harry Fox Agency (HFA)?
Let's start with what it's not: a PRO
The Harry Fox Agency (HFA) meets the mechanical and digital licensing needs of music publishers (Songtrust included). This includes licenses for the recording and reproduction of ringtones, CDs, downloads, lyrics, and other usages. HFA also examines and distributes royalties, investigates and negotiates new business opportunities, and pursues piracy claims.
HFA is often confused with Performing Rights Organizations (PROs) like ASCAP, BMI, and SESAC despite the fact that they deal with completely separate rights types. To put the differences between the two in perspective, here are some common PRO concerns HFA is not responsible for:
Representing writers and publishers when a piece is placed in a film or performed by other musicians
Issuing print rights that are required to revise or publish lyrics
Administering performance rights that permit the use of music in a public setting such as a restaurant, concert hall, radio station, or nightclub
Issuing master use rights that permit the use of an original recording
Clearing the use of samples
This diagram shows how HFA collects mechanical royalties.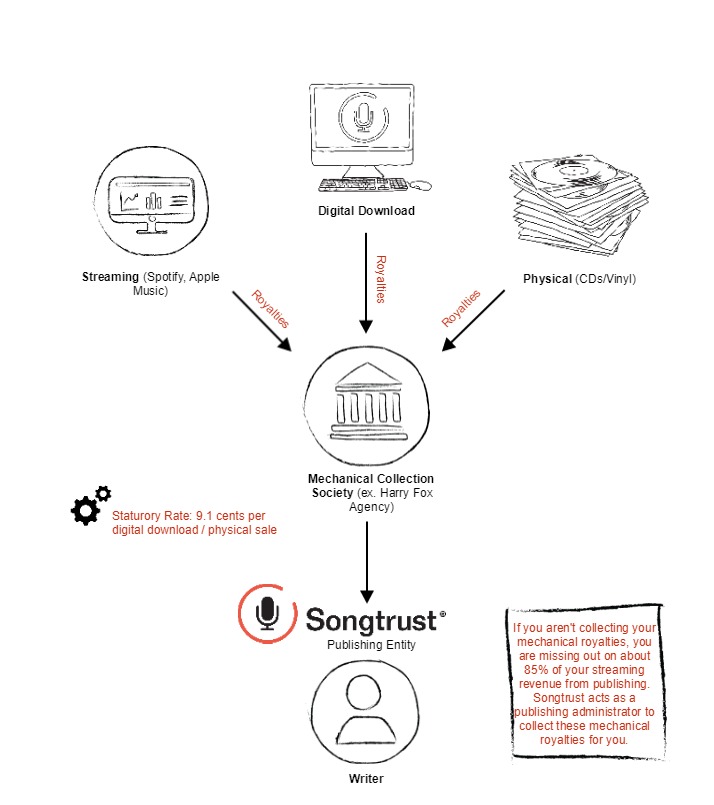 Want to keep up with Songtrust for frequent music and publishing updates?
Follow us @songtrust
Subscribe to our Newsletter
Visit the Songtrust Blog