It is used to let parties know that a publisher is no longer managing your songs.
A Letter of Relinquishment (LOR) acts as proof of termination from your publisher or publishing administrator so you can inform other parties they no longer control your songs. It carries a lot more weight in counterclaims than a Letter of Direction (LOD), a document that does not grant ownership of your work.
This is why collection societies often ask us to provide a LOR from your old publisher before we take over your songs: because it prevents a potential conflict.
LORs come in many different forms, ranging from a formal signed document to a simple email with your old publisher stating they relinquish all claims for your songs. Make sure you always have either on hand in the event your songs become part of a dispute between your old and new publisher.
Here is an example of what a LOR looks like: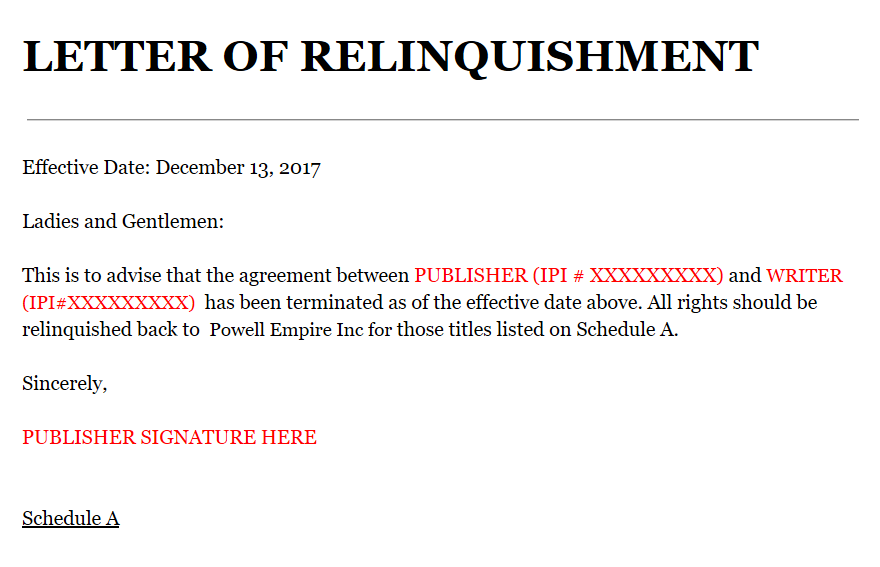 Pro Tip: Whatever the form of your LOR, make sure that you have it on hand in the event your songs go into conflict between your old and new publisher.
Want to keep up with Songtrust for frequent music and publishing updates?
Follow us @songtrust
Subscribe to our Newsletter
Visit the Songtrust Blog