It is used to let parties know that that a publisher is no longer managing your songs.
A Letter of Relinquishment (LOR) acts as proof of termination from your publisher or publishing administrator. For example, if you are registered with a publisher and then leave that publisher, they will provide you with an LOR so you can inform other parties, such as various collection societies around the world, that you are no longer in an agreement with them thus they no longer control the publishing for your songs.
A lot of times when you switch from a publisher to Songtrust, collection societies will ask us to provide an LOR from your old publisher before we can take over those songs. Often times, a Letter of Direction (LOD) is not enough for us to move forward with our claims for your songs if another publisher is already claiming them. Thus, without an LOR, your music often goes into conflict when we try to claim it because these collection societies don't know if you have terminated your agreement with your old publisher or not.
LORs come in many different forms, and can range from a signed document, to a simple email from your publisher stating they relinquish all claims for your songs.
Below is an example of what an LOR could look like: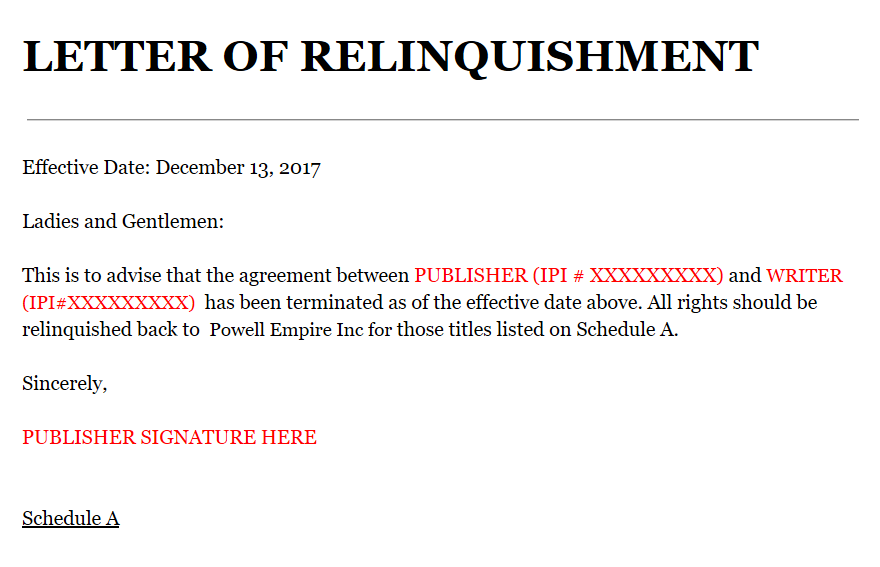 Pro Tip: Whatever the form of your LOR, make sure that you have it on hand in the event your songs go into conflict between your old and new publisher.
Thanks for reading. Please rate the article below.
Want to keep up with Songtrust for frequent music and publishing updates?
Follow us @songtrust
Subscribe to our Newsletter
Visit the Songtrust Blog