Is There A Referral Code I Can Give to Friends Who Want to Sign Up With Songtrust?
Yes - You can find the code within your Songtrust account
If you have friends who are interested in signing up for our services, Songtrust has a referral program that you can participate in. Each person who signs up using your referral link will receive $10.00 off of their registration fee, and we will also deposit an extra $10.00 in your royalties as a thank you for bringing them to us.
In the menu in your account, you will see a heart with "Refer A Friend".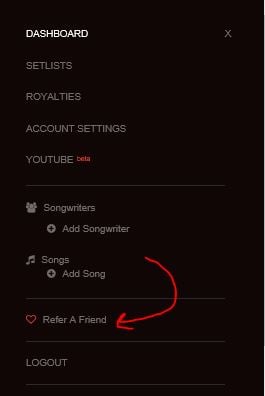 Once you click on this, you will be brought to our referral page. You can then either send your friends an invite by email, or use the unique referral link and copy and paste it wherever you choose.
Thanks for reading. Please rate the article below.
Want to keep up with Songtrust for frequent music and publishing updates?
Follow us @songtrust
Subscribe to our Newsletter
Visit the Songtrust Blog