Songtrust Publishing Payouts
If I Have Multiple Writers in my Songtrust Account, How Do I Know How Much to Pay Each Writer When Royalties Are Generated?
Songtrust can tell you!
Within your Songtrust Royalty Dashboard you have the option to not only see the total amount all your songwriters have generated, but also how much each songwriter has brought in individually. To do this, make the options directly under the ROYALTIES header as follows:

This will show you not only the grand total earnings for that specific writer but also what sources (mechanical, other, performance) they came from as well.
In addition to this, you also have the option to export a CSV file with the same information if needed.
To export your royalty data to an external spreadsheet, please follow the below steps:
Menu → Royalties → Select the first drop-down menu where it says "Statements" the last option is to Export Statements.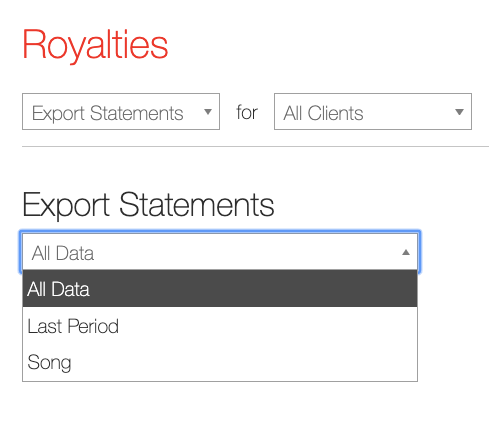 Thanks for reading. Please rate the article below.
Want to keep up with Songtrust for frequent music and publishing updates?
Follow us @songtrust
Subscribe to our Newsletter
Visit the Songtrust Blog