Why is My Song Registration Still "Processing"?
It takes time to properly register your songs globally
Once you add songs into your Songtrust account, we then register them at dozens of different Performing Rights Organizations (PROs) and Collective Management Organizations (CMOs) around the world. Each society has their own set timeline for processing song registrations.
Your songs can be registered with one society and not another, despite Songtrust sending them out for global registration at the same time to all societies. In addition, it is not uncommon for societies register songs but then not sent us confirmation for a while after the work has been registered in their system. As a result, your songs might show as processing when they are in fact already registered. Your song's status will change to "registered" when all societies have registered it and have sent us a confirmation notice.

Not to worry, as we can collect any royalties that are generated while the songs are still processing.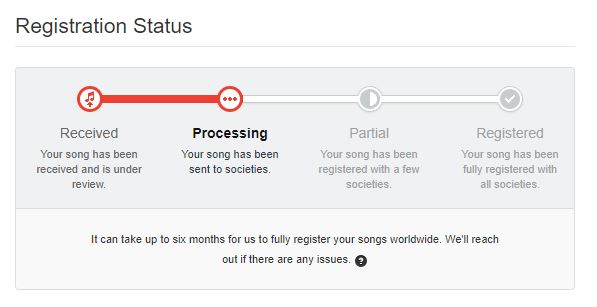 Thanks for reading. Please rate the article below.
Want to keep up with Songtrust for frequent music and publishing updates?
Follow us @songtrust
Subscribe to our Newsletter
Visit the Songtrust Blog