It takes time to properly register your songs globally.
Once you add songs into your account, we register them at dozens of different Performing Rights Organizations (PROs), Collective Management Organizations (CMOs), and other pay sources around the world. Each society has their own set timeline for processing song registrations.
Your songs can be registered with one society and not another despite Songtrust sending them out for global registration at the same time. In addition, it is not uncommon for societies to not send us confirmation for a while after the work has been registered in their system. As a result, your songs may show as processing when they are already registered.
Not to worry, as we can collect any royalties that are generated while the songs are processed.
Our registration timeline is outlined below:
Step 1: Song Added
This step shows you the date your song was added. It goes into the "song processing" stage automatically after that.
Step 2: Song Processing
We confirm your affiliation and song details, then share it with pay sources in our weekly CWR file. If it stays in this stage for 6-8 weeks, please contact us via our support form to ensure we have everything we need for it to be successfully sent out.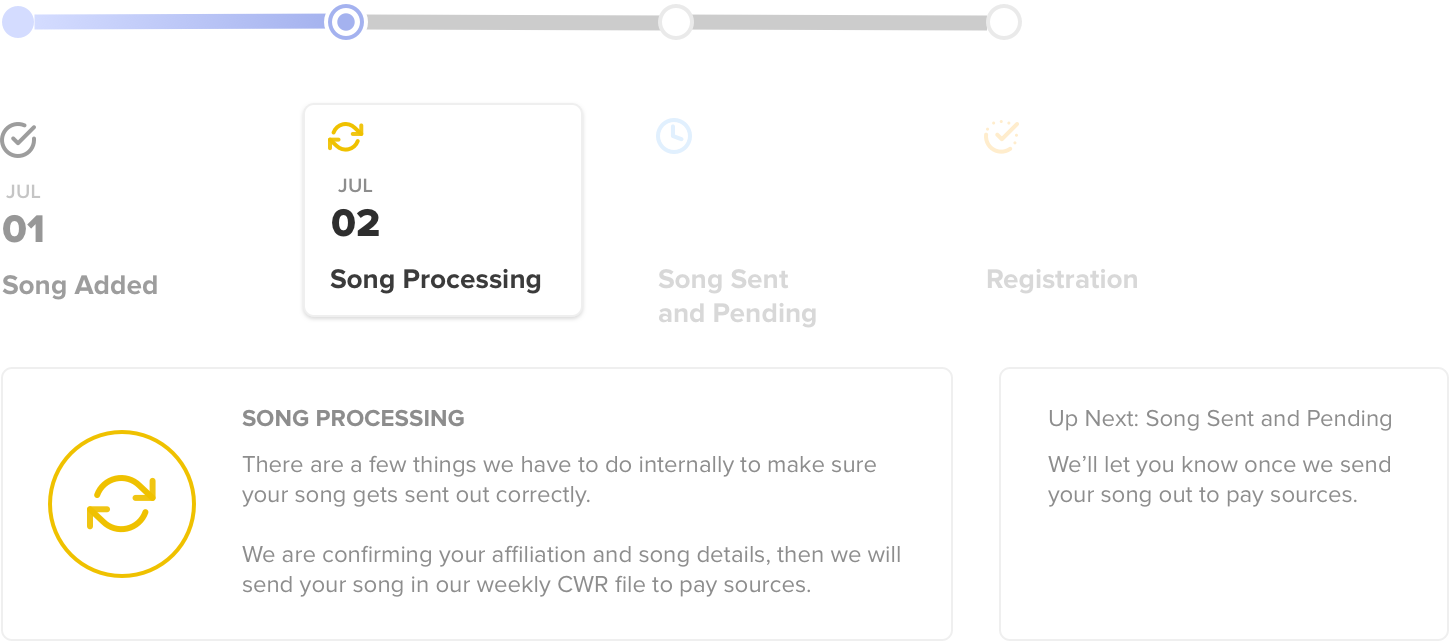 Step 3: Song Sent and Pending
We wait to hear back from pay sources. This can take up to 6-12 months in some cases, and that's if your song information was entered correctly from the beginning. Any changes made along the way could prolong the process. Please use our edit form if you need to change any song details to avoid any potential delays.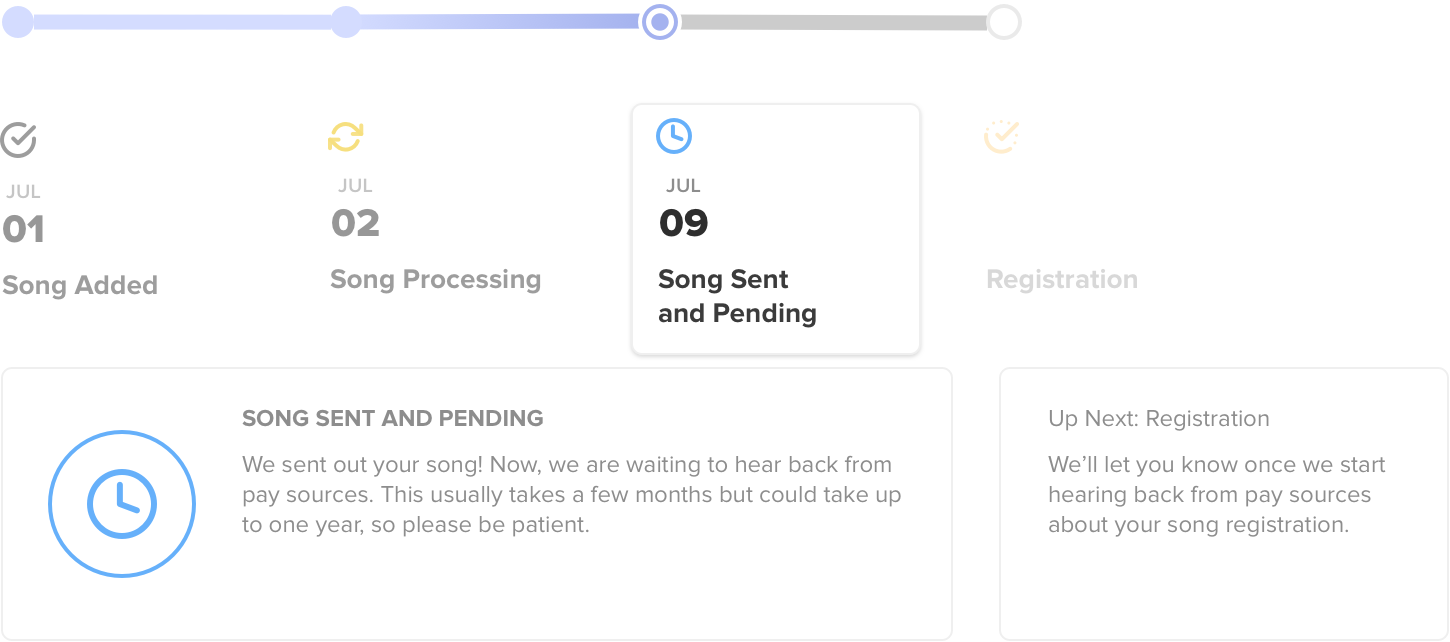 Step 4: Registration
We are able to start collecting your royalties. Exciting stuff, but it can take up to a year to get your song fully registered. It is not uncommon for societies to register songs but not send us confirmation right away. Certain societies will only show works that have already generated royalties. This means that if your songs are not appearing in the public search at a specific PRO, they may be fully registered, but not yet payable.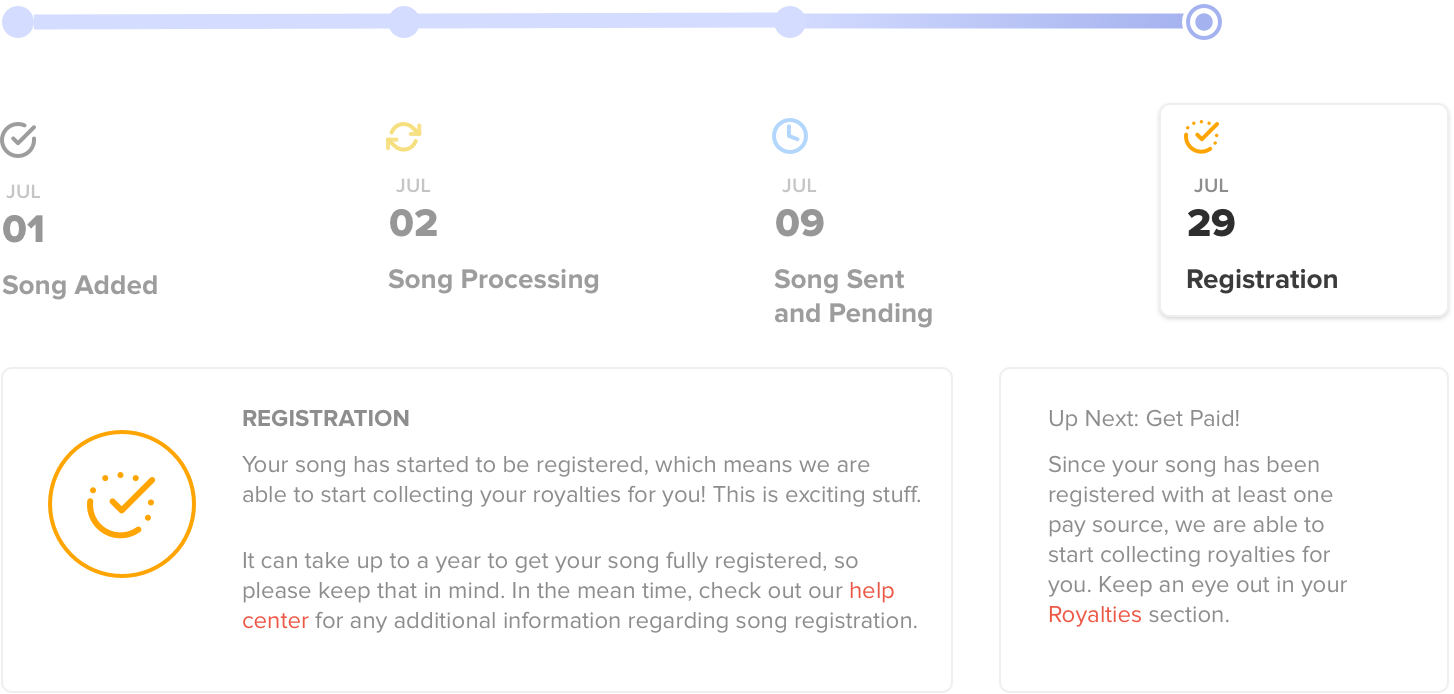 Thanks for reading. Please rate the article below.
Want to keep up with Songtrust for frequent music and publishing updates?
Follow us @songtrust
Subscribe to our Newsletter
Visit the Songtrust Blog