A name is all you need to get an outside writer added to your account.
It's a good habit to get us as much information as possible about your songs and co-writers. After all, the more details we have, the more accurate our matches will be with pay source partners. We can also pick up the pace with the registration process, leading to more potential royalties in your pocket.
You must submit all of a song's writers — including Songtrust clients and non-controlled "outside writers" — to your account when you add it to your dashboard. Another thing you should be sure about is that you enter a song's proper split percentages, which must add up to 100%.
Common information you may not have access to could include another writer's IPI number, Performing Rights Organization (PRO), and/or publisher. If you're missing anything, just leave it blank. And if you don't know a writer's full name, please enter "unknown writer" as pictured in the example below: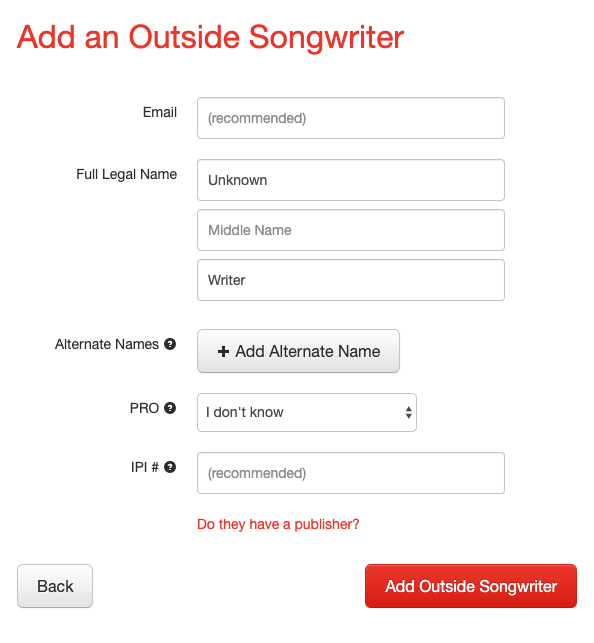 That said, the more information you include when you register a song with us, the better, when it comes to avoiding mis-matches or mixups with our collection partners. So if you can get complete information for your co-writers, please do.
Thanks for reading. Please rate the article below.
Want to keep up with Songtrust for frequent music and publishing updates?
Follow us @songtrust
Subscribe to our Newsletter
Visit the Songtrust Blog